TUBE PRODUCTION CAPABILITIES

Inner Diameter Range: .250"-3.75"
Wall Thickness Range : .024-.500"
Max Tube Length: 90"
Minimum Tube Length: 30"
Standard ID tolerance: +.002"/-0.00" (Based on layup mandrel dimension)
Standard Material Options: Carbon/Epoxy and E Glass/Epoxy (Minimum material purchase required with other materials)
Material Stiffness Options for Carbon, axial laminate: Standard (15-16msi), Intermediate (20-21msi), and High Modulus (30-32msi)
Tube heat tolerance options: 250F dry TG (Increase in material heat tolerance is available for large orders.)
*Resin TG provided by Newport. Mechanical properties of a finished tube will decline before TG temp is reached. Customer is responsoble for application testing.

SECONDARY OPERATION CAPABILITIES

CUTTING: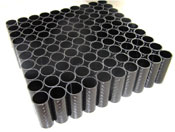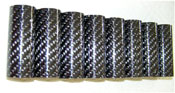 Standard cut length tolerance: +/- .030" (Tolerance improves for tube section less than 6" long)
Material loss per cut from saw kerf (thickness): .130"
Saw: MK wet saw with 10" diamond blade
Max tube OD that we can cut: 3.75"

SANDING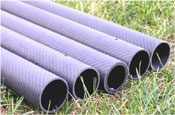 Best sanded OD tolerance for uni-directional tubing: +/- .003"
Best sanded OD tolerance for fabric tubing: +/- .006"
*Over sanding a fabric tube will degrade the look of the weave pattern so we try to find a balance between sanding and your required OD tolerance given the materials we have to work with.
Max tube OD we can sand: 2.50"

BONDING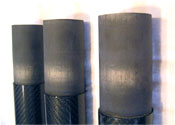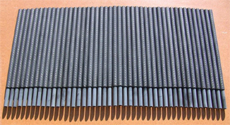 We offer precision carbon/carbon, carbon/metal post bonding for production or prototype tubes. We often bond inner ferrules to create segmented tube assemblies that slip together to create a long tube section. We have significant experience with surface preparation to bring you a consistent and strong bond time after time.

PAINTING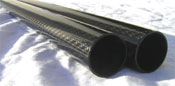 We offer clear or color coating services to meet you project needs. The tubes shown in the header image above are examples of our in-house painting work.

To request a formal quote please fill in the email form below and click submit. Once we receive your quote we will contact you via email to confirm we have received your request. We will provide you with all relevant cost of the tubes and custom tooling if needed. Most quotes will be returned within 24 hours. Please give us as much information as possible so that we can produce an accurate quote for you. If a field is left blank we will assume that data is not relevant to your project.